CLOSINGS, TRAVEL DISRUPTIONS AHEAD OF SANDY
Federal, Local Gov't Offices Closed Monday
Sunday, Oct 28, 2012 | Updated 8:41 PM EDT
President Barack Obama declared an

EMERGENCY EXISTS IN D.C

. and ordered federal aid to help the city's response.
Many D.C.-area employers, governments and schools announced they would
close Monday
, as the D.C. area braced for what forecasters have called one of the most alarming weather systems to threaten the Mid-Atlantic in decades.
CLICK HERE for the latest school closings.
Photos and Videos
Erika Gonzalez: Preparing for Sandy
Rehoboth Beach braces for Sandy's impact. News4's Erika Gonzalez reports.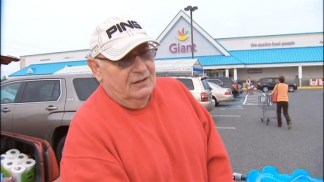 WATCH
Erika Gonzalez:
Preparing for Sandy


Preparing for Sandy



Around our area, officials and residents are getting ready for whatever this storm may bring.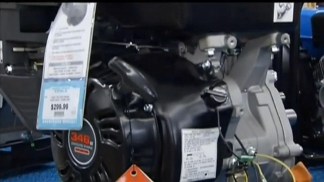 WATCH




Preparing for Sandy





The federal government is closing nonessential offices in the D.C. region Monday due to Hurricane Sandy. D.C. is among the governments

closing offices

at least for Monday.





"Let me be clear: This storm is unique, large, dangerous and unlike anything our region has experienced in a very long time," D.C. Mayor Vincent Gray said. "We are likely to suffer significant power outages due to fallen trees and other debris, and we may experience significant street flooding. Let me also be clear about this: The District government is ready to meet this challenge."





Early Sunday morning, the National Weather Service issued a high wind warning for the entire area. The watch is in effect from 8 a.m. Monday to 8 p.m. Tuesday. The NWS says that wind gusts over 45 mph are expected by Monday morning, and gusts of 60 mph or greater could blow through the area between Monday afternoon and Tuesday.





Sunday afternoon, the NWS issued a coastal flood warning for the Potomac River, the Chesapeake Bay and especially the Atlantic Ocean from midnight Monday to 8 p.m. Wednesday. A flood watch remains in effect for the District of Columbia and parts of Maryland ahead of the expected landfall. In Maryland, the flood watch covers the following counties: Anne Arundel, Calvert, Carroll, Charles, Frederick, Harford, Howard, Montgomery, north Baltimore, Prince George's, southern Baltimore, and St. Mary's.





Related Stories





Liz Crenshaw provides tips and tricks to secure your hom...



[*]

Amtrak Cancels Some Service

Metro, Amtrak, and area airports are all preparing...




The storm could hit our area with extended periods of winds that gust 60 mph or greater - raising the threat of extended power outages through next week.




The potential exists for heavy rains and flooding in our area, Kammerer said.





Sandy has grabbed the attention of a large swath of the East Coast, with weather forecasts indicating the likelihood that it will strike somewhere from Ocean City, Md., to New York City overnight Monday.





Those same forecasts show that the storm may benefit from an unusual combination of weather systems that may strengthen its initial impact and lengthen its stay on land. A developing storm system to our west is expected to grab Sandy and send it toward the coast.





That's after the storm killed at least 65 people on a destructive trip through Haiti and the Caribbean.





The combination of storms will even bring a chance of snow to West Virginia, where winter storm watches - including a blizzard warning for mountainous areas - are in effect.





With a rare mix of three big merging weather systems over a densely populated region, experts say there could be at least $1 billion in damage.


[*]
 

CLICK HERE to view images from the hurricane.


[*]

Transport systems had already begun to be disrupted Sunday. After close of service Sunday, Metro will suspend bus and rail service for Monday, with no time of restoration set.

Amtrak announced

in the afternoon that it had canceled its scheduled Northeast Corridor service for Monday. The Maryland Transit Authority followed suit in announcing no MARC trains nor commuter buseswould run Monday, as did VRE. Fairfax Connector service also will be suspended Monday.





Among the airlines,

Delta

,

US Airways

,

United

,

Virgin

, and

American Airlines

announced that they would waive or relax change fees for customers re-booking flights ahead of the storm. United

announced Sunday that it had begun

canceling some flights to and from all three major regional airports, as well as Richmond, Roanoke and Norfolk.





More cancellations were expected Monday and Tuesday. Passengers are advised to check with their specific airlines to confirm their flight status.




Region Prepares for Sandy





Supplies flew off the shelves of local supermarkets. Virginia Gov. Bob McDonnell urged Virginians to "please prepare" for what he predicted would be a "unique, long-lasting storm." People along the Delmarva Peninsula,

including in Ocean City

, packed up in advance of a deadline to evacuate by 8 p.m. Sunday.





The presidential election was also affected: President Barack Obama canceled a scheduled campaign appearance with former President Bill Clinton in Prince William County Monday so he could monitor Sandy's progress. Republican Presidential candidate Mitt Romney canceled scheduled Sunday appearances in Haymarket and Richmond after earlier scrapping a scheduled rally in Virginia Beach. Vice President Joe Biden also canceled a planned Virginia Beach rally, but held a rally in Lynchburg Saturday.





Some jurisidictions that have closed government have also

canceled early voting Monday

.





In preparation for possible flooding, sandbags were distributed to residents of the District and Alexandria Sunday. Distribution ended at 6 p.m. in D.C.





Alexandria residents can pick up a maximum of five sandbags at either George Washington Middle School or at the intersection of King and Lee Streets in Old Town.





Proof of D.C. or Alexandria residence is required.





In advance of the storm, the District of Columbia, Maryland and Virginia declared states of emergency. The executive orders clear the path for faster response. At the moment, no mandatory evacuations have been ordered in Virginia or Maryland, though McDonnell noted Saturday that his executive order gave local authorities in Virginia the power to order local evacuations if they saw fit. In Maryland, officials in St. Mary's and Charles Counties declared a local state of emergency Saturday.





Utililties are preparing as well: Pepco has made a request to bring in an additional 2,500 linemen, 400 tree trimmers and 200 damage assessors from other utilities. Similarly, Dominion Power in Virginia said that it had requested an extra 2,000 workers from outside the state to assist with potential power outages.





Pepco called some customers late Friday with a recorded message, saying they were closely watching the storm. "We are preparing and we encourage our customers to prepare as well," the message said.





Meanwhile, Maryland utility regulators announced Friday that they'd end a controversial policy that allowed power companies to charge customers for lost sales during the first 24 hours of a major power outage.





Emergency services from throughout the region said they were gearing up, trying to clear storm drains and calling in personnel to be on standby. The Washington Suburban Sanitary Commission began moving in generators and topping off their chemical storage tanks. Speaking on a conference call Saturday afternoon, Virginia Gov. McDonnell said that the entire Virginia State Police force had been placed on standby.





Metro began to place sandbags around Metrorail locations prone to flooding. Metro also said that its workers were checking drainage pumping stations and clearing drainage areas of leaves, while additional support personnel were scheduled to be on duty throughout the storm.





Meanwhile, some federal agencies activated their emergency systems as well, including the Customs and Border Patrol, which activated field coordinators to communicate if needed.





Forecast: Significant Storm





"It's looking like a very serious storm that could be historic," said Jeff Masters, meteorology director of the forecasting service Weather Underground. "Mother Nature is not saying, 'Trick or treat.' It's just going to give tricks."





National Oceanic and Atmospheric Administration forecaster Jim Cisco said: "We don't have many modern precedents for what the models are suggesting."





And the storm will take its time leaving. The weather may not start clearing in the mid-Atlantic until the day after Halloween and Nov. 2 in the upper Northeast, Cisco said.





"It's almost a week-long, five-day, six-day event," he said from a NOAA forecast center in College Park, Md. "It's going to be a widespread, serious storm."






It is forecast to hit during a full moon, when tides are near their highest, increasing the risk of coastal flooding. And because many trees still have their leaves, they are more likely to topple in the event of wind and snow, meaning there could be widespread power outages lasting to Election Day.





Some have compared the tempest to the so-called Perfect Storm that struck off the coast of New England in 1991, but that one hit a less populated area. Nor is this one like last year's Halloween storm, which was merely an early snowfall.





"The Perfect Storm only did $200 million of damage and I'm thinking a billion" this time, Masters said. "Yeah, it will be worse."





+ VIDEO :

http://www.nbcwashington.com/weather/stories/Sandy-Threatens-Region-175766311.html